Gentle Harvest - Tree Service in Central WI
Services
---
Tree Removal - Gentle Harvest specializes in all your tree service needs. Our insured and trained professionals will remove your un-wanted trees whether it be one or one hundred! If you don't want the left-over stumps in your yard, we will use our portable, go anywhere stump remover and get rid of them for your convenience.
---
Firewood Cutting - If you have wood to be cut, you have come to the right place. Gentle Harvest employees have the expertise to cut you precise amounts of firewood in a variety of sizes. Our tree service professionals will even haul and stack the firewood for your convenience.
---
Sawdust - Looking for a way to recycle the excess wood when getting lumber cut? Gentle Harvest can help you accomplish that task. We can get you some sawdust whether it be a bag or truck load. Take that sawdust and make useful. Sawdust can be used for a variety of reasons including, but not limited to: keeping weeds down, pet bedding, holding moisture for plants, and compost. Save the Earth by recycling your wood!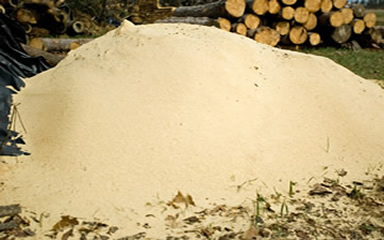 ---
Woodchips - Need some help getting the annual campfire started? Woodchips are commonly used to help keep your fire hot and burning for a good amount of time. Many people are also using woodchips to make trails to take peaceful walks through your property. Gentle Harvest uses a commercial-grade wood chipper to get you the quality you deserve.
---
Lumber - If you are looking for professionally cut lumber for your latest project, you have come to the right place. Gentle Harvest uses high-grade equipment to satisfy all your lumber needs. We use Woodmizer's most productive portable saw mill to get you quality lumber. The lumber is cut according to your specific needs.
---
*See Gentle Harvest Specials!*
Home Services Products Fun Contact Site Map